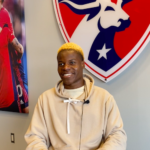 Episode 172: Whatever the opposite of entitled is, that's how I see Bernard Kamungo. Listening to him talk to me during this interview, it hit me that this young man truly didn't expect much past the next day as he grew up in a refugee camp in Tanzania. The humble perspective is refreshing, and it makes you want to root for him.
I'm thrilled to bring Bernie's story to you. The story of a refugee with little to eat ends up in west Texas as a teenager who then ends up in a pro soccer tryout the day after his high school soccer game, and goes on to sub into his first MLS game and score a goal. It's storybook, but it's Bernie's modest narrative that makes it so sweet.
Resources:
FC Dallas: https://www.fcdallas.com
Bernard's Bio: https://www.fcdallas.com/players/bernard-kamungo/
Give me a comment, a wave, a message. You can find me on Instagram @hustle_and_pro or email me at [email protected].