THE SHOW
The Hustle and Pro podcast started on March 8, 2019 with episode #1 learning about lacrosse. Since then, we've had guests on the show talking about:
• High School Basketball | Professional Basketball | NBA | NBA G League
• Youth Baseball | College Softball | Professional Baseball | Middle School Baseball | Kickball
• Youth Soccer | Pro Soccer | MLS | USMNT | High School Soccer
• High School Football | Pro football | NFL
• Pro Hockey | MMA | Chess | High School Golf | PGA Golf | Tennis | Running | Triathletes | Cycling | Wrestling | Cheerleading | Dancing | Injuries | Track & Field | Cricket | Aussie Rules Football
• Sports Movies | Sports Documentaries | Best Athletes
You get the idea. If it's about a sport, an athlete's journey, staying fit for sports or even remembering our favorite things about sports, we're talking about it.
THE HOST
Hustle and Pro is hosted by Kelly Walker. A longtime sports fan, Kelly grew up playing everything from soccer to softball, gymnastics, tennis, basketball, and more. An avid Texas Rangers and Dallas Cowboys fan from Waco, Texas, she headed west to become a Red Raider. On the intramural soccer field at Texas Tech, she met her future husband, who she spends a lot of family time with at FC Dallas, Frisco Roughriders, youth soccer, basketball, baseball, and lacrosse games.
Kelly began writing local sports features for Lifestyle Frisco in 2018, and shortly after realized the interviews were too good to let sit in a digital file no one gets to hear. So, the podcast show was born to tell the stories of local athletes, coaches, teams, and fans.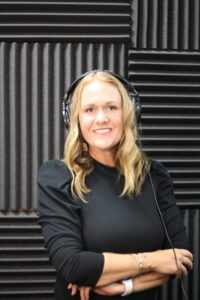 Sports has been a thread throughout my entire life, from age 3 when I was toddling around our family's gym. I'm a fan, an athlete, a mom of athletes, and a wife of an athlete, so sports are part of the fabric of my everyday life.

Kelly Walker