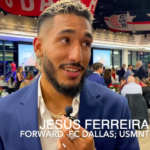 Episode 169: Meet some of the biggest names at FC Dallas. Part of what I do as a local media member is cover team media days, press conferences, events, announcements and games. This episode gives you a peek into two pre-season FC Dallas activities. From a press conference with the coach in Spain to a cocktail event with players and team owners, enjoy this episode on FC Dallas.
Resources:
FC Dallas: Site | FCD Foundation | Burn Baby Burn Kit | Legacy of Lamar Hunt
Jesus Ferreira: Bio
Paul Arriola: Bio
Head Coach Nico Estevez: Bio
Tarik Scott: Bio
Give me a comment, a wave, a message. You can find me on Instagram @hustle_and_pro or email me at [email protected].