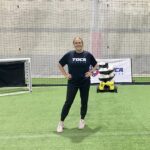 Hustle and Pro – Episode 181: On this episode we talk with former MLS/EPL great and TOCA Founder/President Eddie Lewis. Plus, we get some bonus footage as we give the new TOCA Training studio a go. Eddie played in the inaugural MLS season, two World Cups, and many a season in the US and across the pond. Then, he created TOCA to help soccer players with control and awareness. Now with almost 40 TOCA locations he's teaming up with FC Dallas to help improve player development in their already strong homegrown academy system.
Don't forget to watch after the interview for the bloopers, I mean, footage of me training in the TOCA studio!
Resources:
FC Dallas: https://www.fcdallas.com | Article on the Partnership
TOCA: https://www.tocafootball.com
Give me a comment on Instagram @hustle_and_pro or email me at [email protected].