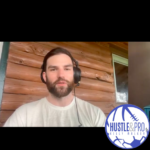 Hustle and Pro Episode 177: Nicholas Lemieux talks with us about creating a top marketing and e-commerce platform for pro athletes. It's fascinating how Athlete Studio comes from data-minded training mixed with sports interests. Nicholas works with Micah Parsons, Angel Reese, Jalen Hurts, Justin Jefferson, and more, creating their brands that they can take off the court/field for revenue generating opportunities like merch and digital collectables.
Resources:
Athlete Studio: Website: https://athlete.studio | Twitter: @AthleteStudio | Instagram: @athlete.studio | Facebook: @athletestudio/
Give me a comment, a wave, a message. You can find me on Instagram @hustle_and_pro or email me at [email protected].