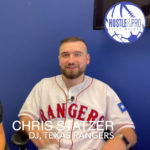 Hustle and Pro Episode 178: Chris "DJ CSTATZ" Statzer sits down to talk about working for the RoughRiders and Rangers. Started cooking hot dogs and now working under Chuck Morgan's crew serving up in-house music and audio entertainment. Coolest job ever, right?
Resources:
Chris Statzer, Official DJ for the Texas Rangers: Linktree: https://linktr.ee/DJCStatz | Twitter: @TheCStatzer | Instagram: @chris_statzer | Facebook: DJ CStatz
Texas Rangers | Website
Frisco RoughRiders | Website
Give me a comment, a wave, a message. You can find me on Instagram @hustle_and_pro or email me at [email protected].
---
Brought to you by Southland Conference