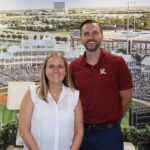 Hustle and Pro Episode 175: We're celebrating 20 years of a Frisco staple, the Frisco RoughRiders. The Double A affiliate of the Texas Rangers first called Frisco home in 2003 and has become more than a ballpark and more than a baseball team. If you listen to this podcast you know it's a part of our family.
Scott Burchett, RoughRiders General Manager, sits down with us to talk about the team over the 20 years. We hear how Scott got his start and about his favorite thing about the RoughRiders. Enjoy this episode as we take a trip down Riders memory lane with Scott Burchett.
Resources:
Frisco RoughRiders: Website: https://www.milb.com/frisco | Twitter: @RidersBaseball | Instagram: @friscoroughriders
Give me a comment, a wave, a message. You can find me on Instagram @hustle_and_pro or email me at [email protected].