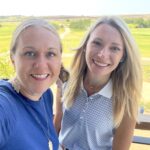 Hustle and Pro Episode 176: From Frisco High School golf team to Head Golf Pro at PGA Frisco, Trish Holt has found a place she's proud to share with golfers of all ages and skill level. Join us as we talk to Trish about youth golf, college golf, and what makes Fields Ranch so special.
Resources:
PGA Frisco: Website: https://pgafrisco.com | Instagram: https://www.instagram.com/officialpgafrisco/ | Facebook: https://facebook.com/officialpgafrisco
Trish Holt on LinkedIn: https://www.linkedin.com/in/trish-holt-pga
---
Give me a comment, a wave, a message. You can find me on Instagram @hustle_and_pro or email me at [email protected].