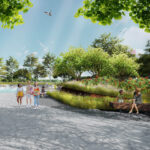 Episode 156: This episode will make you want to get outside and bike, hike and explore the parks and trails in Frisco. Shannon Coates, Director of Parks and Rec for the City of Frisco and Conners Ladner, principal at landscape architecture firm Design Workshop, talk with us about two upcoming park projects.
Northwest Community Park and Frisco on the Green will feature everything from groves, bike parks, jump lines, bike playgrounds, splash parks, gardens, plazas and much more.
Resources:
ShapeYourPlay.com – http://shapeyourplay.com/
City of Frisco Parks and Recreation – Play Frisco
Give me a comment, a wave, a message. You can find me on Instagram @hustle_and_pro or email me at [email protected].
WATCH THIS EPISODE – Please SUBSCRIBE to Hustle and Pro on YouTube
---
Thank you to our sponsors: