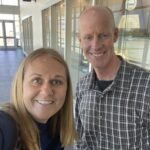 Episode 172: FISD Athletics Facilitator Matt Wixon talks to Hustle and Pro about this school year's athletics accomplishments. We discuss some of the standout teams and individuals, how UIL alignments impact Frisco student athletes, and the important balance of sports and academics.
Resources:
FISD Athletics: https://www.friscoisd.org/departments/athletics
Give me a comment, a wave, a message. You can find me on Instagram @hustle_and_pro or email me at [email protected].