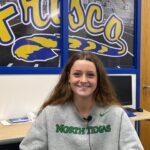 Episode 170: Happy Birthday to H&P. This episode kicks off our 5th season from our first episode on March 8, 2019!
In this milestone episode, we have a young but might student athlete as our guest. Addison Christian plays soccer for Frisco High School and BVB Girls Academy. She's a vocal leader on the defensive end of the field, an avid student with interest in dermatology and a class President at FHS. Enjoy getting to know Addison's story and you'll be cheering her on for sure.
Resources:
Frisco High School: Site | Soccer Booster Club
BVB Soccer Club: Site
University of North Texas: Womens Soccer
Give me a comment, a wave, a message. You can find me on Instagram @hustle_and_pro or email me at [email protected].