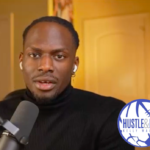 Norense Odiase talks about his road to becoming a Red Raider and all the good memories he has and the support he continues to give for Tech. We learn about his personal struggles, his podcast, and the correct way to say his name.
Resources:
Norense Odiase: Twitter: @kingno_ | Instagram: @kingno_/
Mind Bully Podcast: Twitter: @mindbullypod | IG @mindbullypodcast/
Give me a comment, a wave, a message. You can find me on Instagram @hustle_and_pro or email me at [email protected].