The announcement came across my email during the Dallas Cowboys game on 9/19. It said:
"FC Dallas has announced the departure of Luchi Gonzalez as head coach of the club. Director of Soccer Operations Marco Ferruzzi will manage the club on an interim basis as the search for a new head coach begins immediately."
It took me by surprise. It probably shouldn't have. We aren't winning enough. We are in 11th place, so a coaching change shouldn't be out of left field. It was the mid-season decision that surprised me.
It seems, to me, so jarring from the player perspective to experience the dramatic release of their head coach while having to prepare for a match just days later. Maybe they are devastated. Or, maybe they are more frustrated with losing than they are wanting to hold onto their coach.
Are the players that came up with Luchi going to be traumatized with this decision? Then I remind myself how frustrated we are watching the last several matches wondering why these guys don't seem to be giving it all every time. Dan Hunt says he doesn't think the players stopped believing in Luchi's message. He says this wasn't a decision he's been sitting on all season. It came down to the recent performances not getting it done. He said he simply didn't expect to be in 11th place. Makes me think Dan did believe in Luchi – just not anymore now that we find ourselves fairing so poorly in the standings in late September.
To play devil's advocate (and because I am a Luchi fan) I have to feel he's dealt a tough hand when many of his top players get plucked away for International exposure. Some would say FC Dallas's model is to develop players and sell them for cash. When asked directly about this in the press conference, Dan Hunt says that he doesn't know that 'a development club is a fair characterization of the entire organization'. He makes the point that they don't take money out of this club, regardless of the 'cash' they get for big trades.
Can both be done? Can you build up such a strong farm system, and keep them, and win? The Hunt family stands by the strategy.
So what does it look like for us to make this coaching change to turn the season around enough to win? We are 7 points off the playoff line with opponents coming up that can absolutely move those numbers if we can win. So, yes, there still is a chance. Is the coaching change enough? Dan says he's addressing what's in front of them right now (these next 8 games). He says he's committed to spending but that the new coach will be involved (as always) in bringing in players.
Close isn't getting it done. It's about winning and that's what we are committed to do.

Dan Hunt
If this in-season decision was based on poor performance you have to wonder, why not act sooner? I didn't think of it that way but it was the first thing my FCD Season Ticket Holder friend asked when he heard the news. It's a fair point. We've been in this 'losing' position before, so why not a year ago, why not 2 or 3 games ago? Dan says the gap was closer than the current 7 point gap to be in the playoffs. He says they were monitoring the situation as it was still within reach. Coming up there's a break in between games so he says that may be a time for the players to gel with their new coach and game plan.
What's next and what happens now? Marco Ferruzzi will be the interim head coach. Marco is a veteran on the FCD staff. Dan even credits him as the architect of a lot of our great teams and says he feels Marco gives us the best chance possible to make the playoffs.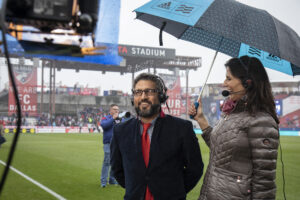 FC Dallas has not begun the search for a new head coach yet, as of 9/20, which is 5 days away from our next match.