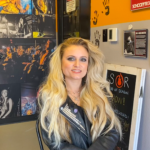 Episode 168: Spud is Kaity. Floyd is Spud. She is Floyd. It'll all make sense when you watch this episode with RoughRiders host, Kaity Floyd. We talk about her work with the RoughRiders, Frisco Fighters, Allen Americans, and more. We recorded from School of Rock, where Kaity teaches music to her students (of all ages). Learn more about her music, tattoos and cats, too.
Enjoy this episode with Katie Floyd.
Resources:
Kaity's YouTube: https://www.youtube.com/@SheIsFloyd
Frisco RoughRiders | Frisco Fighters | Allen Americans | Dallas Jackals Rugby | SMU Men's Basketball
Give me a comment, a wave, a message. You can find me on Instagram @hustle_and_pro or email me at [email protected].