ORIGINALLY PUBLISHED ON FRISCOCLASSIC.COM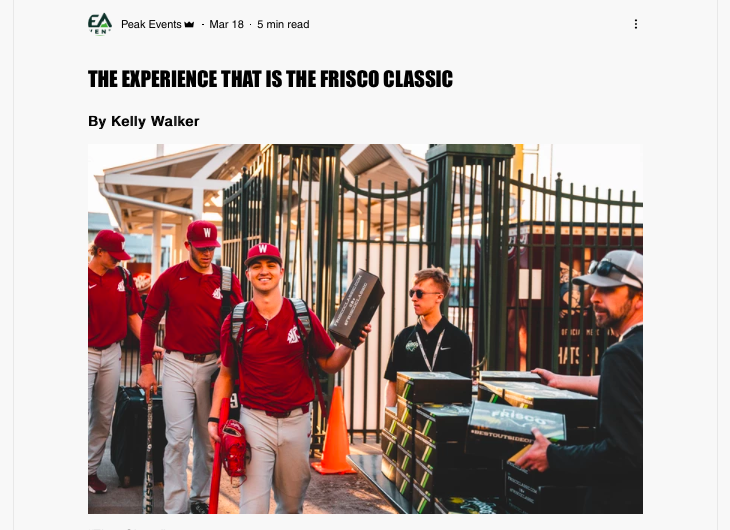 "First Class."
"Fantastic."
"Pro operation all the way around."
"One of the best for sure."
After their 3rd and final game of the 2022 Frisco Classic, these are the words the head coaches used to describe the weekend.
Frisco College Baseball Classic's mantra "Best Outside of Omaha" is more than a hashtag. It's an intentional high standard designed for a certain level of accountability that allows the tournament to live up to the hype.
Creators of the Frisco Classic wanted the game experience for the fans, student-athletes, and coaches to be first class. Peak Sports MGMT and Peak Events President and Founder, Ryan Holloway, aims for good baseball to watch, a good regional feel with fan bases showing up donning their team colors, and the players getting to play on a beautiful field and experiencing top-notch treatment.
We took the pulse of how we're living up to the hype during the March 2022 tournament weekend.
Iowa Director of Operations & Player Development, Nick Ungs, summed it up nicely regarding the Frisco Classic chatter and why it's important for the players. "Being part of college baseball, you know of it and you always follow it," says Ungs. He explains that the atmosphere and the hospitality that goes along with the Frisco Classic weekend brings it all to another level and helps put the kids in the right state of mind. "Big schools and Power 5 names coming in and playing in front of a great crowd and environment gets your kids acclimated to something like that so that when the regionals, super regionals and even being in the world series come around, they've had that moment already."
THE WELCOMING EXPERIENCE
From the hotels to the staff at the ballpark and beyond, coaches tell us everyone was not only accommodating but really worked hard to take good care of the players.
The in-game experience was vivid for Washington State Pitcher Grant Taylor. "Pitching in this environment is amazing," Taylor says. "You come out, walk on the mound in the first inning, and with all these fans in the stands, you are pumped. Your adrenaline is going, your legs are shaking and you get settled in with the first batter then really get to take it all in and soaking in every moment."
Time together off the field is a valuable part of the experience. Texas A&M Catcher Troy Claunch mentioned the importance of learning about each and every pitcher on and off the field, so getting as much time together over the weekend is helpful. He also felt the love of the home crowd feel. "It's awesome to have all the fans here supporting us and backing us up," says Claunch.
Coaches get in on the positive experience of the Frisco Classic, too, especially when there's a moment to savor like when Washington State Head Coach Brian Green got his 200th win. The team presented him with a bat after the game, and Green says that the win, in this environment, against a good team like Texas A&M is a moment he'll never forget.
Iowa Head Coach Rick Heller talked about the welcoming crowd so far from home as they were greeted with a nice showing of Hawkeye fans in Frisco. "We have a pretty big contingency in the Dallas area, and it's nice to have them come out and support us all three days," Heller says.
THE FIELD & BALLPARK
Many of the College facilities are petite ballparks with turf fields. Riders Field is a 12,000-capacity ballpark with 26 luxury suites, a world-famous lazy river, bullpens inside the seating bowl, and a grass field best described as "classic". The reverence for the ballpark isn't lost on these collegiate players.
Washington State infielder, Kyle Russell, commented on the ballpark, "The experience is insane; a once-in-a-lifetime opportunity. It's a great environment to play in. It's breathtaking being here. Where we are used to playing, it's smaller and not as many people, so this lives up to the hype."
You can't get a better playing field and place to live out your dreams than in Frisco. The experience of playing in a beautiful AA ballpark is incredible for college players because it's part of what they dream about. While the facilities in college are legit, it's different playing in a pro stadium where many of the greats have played and so many major league players have stepped on the field and played on their way up to the big leagues.
Wichita State third baseman Foster Gifford told us why he looked forward to the Frisco Classic. "Excited about the atmosphere. It's a good set up, good field, good competition. I've never seen the bullpens being in the stands, so that's pretty cool," Gifford says. He also looks forward to playing against guys he played in the summer and facing programs with strong reputations of being good teams.
Some players prefer the grass surface of Riders Field because of the feel and malleable dirt. Wichita State Closer Connor Holden says he likes dirt mounds over turf mounds because you can dig into and take your time getting it just right. "Grass is part of the integrity of the game; it's how it's supposed to be played. I feel more at home when there's grass and dirt under my feet."
THE LEARNING EXPERIENCE
For the players, facing a strong field at the Frisco Classic is a learning experience. You see better opponents, different pitches, different pickoff moves, a different speed of the game. With each element, you can take something from it, learn and improve. Teams have to learn from the quick turnaround from night games to a following day game and facing teams outside of their typical conference schedule.
"Anytime we're in this environment it's better preparation for what we have ahead of us in our conference," says Texas A&M Head Coach, Jim Schlossnagle.
Coaches see the added pressure of the Frisco Classic as a positive – the sooner they learn how to handle the pressure, the better. The challenge teaches you how to adjust and prepare, especially developing teams with a young roster. Wichita State Head Coach, Eric Wedge, says, "We want to play the best teams we can. That's how you mature that much quicker. It's how you answer questions that much quicker and make adjustments quicker to be a better ballplayer."
Coach Wedge called the tournament a class operation and a welcome challenge for their team. "Our players are excited to be in Texas. We recruit strong down in Texas, so there's a lot of energy on the bench," he says. "Anytime you get close to home and get a chance to play a storied program, it's a great challenge for us."
Seeing the Frisco Classic on the schedule caught the eye of Wichita State's Holden, a Graduate transfer. "It's a recruiting tool. When I got here to Wichita State, a big thing for me was the schedule. Playing at the Frisco Classic is one of the highlights of our year. The week preparing for it and even throughout the whole year, this has been a big circle on our calendar," explains Holden.
Stretching your limits, facing tougher competition, bonding time off the field – it helps build baseball clubs. As Holden says, "We want the competition. We're not scared of anyone. We want to see how we size up against the cream of the crop."
The Frisco Classic delivers first-rate treatment for players and coaches, a pro facility, boss matchups, and an exceptional fan experience to uphold that proud #BestOutsideOfOmaha hype.