One of my favorite Frisco sports events is the Frisco College Baseball Classic each spring. Today, they announced what teams we get to see March 1, ,2, and 3, 2024.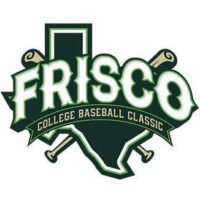 Peak Events, LLC in partnership with the Frisco RoughRiders are excited to announce that the 8th annual Frisco College Baseball Classic is set to return to Riders Field on March 1 – 3, 2024.  The 2024 participating teams will include; University of Alabama, University of Arizona, Indiana University, and Dallas Baptist University.

The 2024 Frisco Classic again showcases four top teams that will span three days of play at Riders Field in Frisco, TX, home of the Texas Rangers' Double A affiliate, the Frisco RoughRiders.  The weekend tournament will have two games per day with each team playing the other, three times in a round robin format.  Tickets can be purchased on a day by day basis which includes both games played on the same day or as a weekend package in select seating sections with both reserved and general admission seating options available. Tickets are available at friscoclassic.com.

"We're excited to welcome Peak Events for one of the premier college baseball tournaments in the country. We're looking forward to kicking off the baseball season here at Riders Field with some of the best college baseball teams (and fan bases) around.  Peak Events has been an incredible partner and they make this event truly the best outside of Omaha," said Scott Burchett, Frisco RoughRiders General Manager.

"It is amazing that we are going into year number 8 here at the Frisco Classic! The partnership with the Frisco RoughRiders has been second to none and a key reason we are able to draw high level teams to participate year in and year out. This event will be no different with all 4 teams coming off great seasons including NCAA tournament bids in 2023. We hope to see tons of fans come out this year to support this event and to see what we like to call an early season Regional!"
said Nathan Wooldridge, Vice President of Peak Events.
2024 Frisco Classic Schedule

Friday, March 1
Dallas Baptist vs Arizona – 2:00pm
Alabama vs Indiana – 6:00pm

Saturday, March 2
Indiana vs Dallas Baptist – 12:00pm
Alabama vs Arizona – 4:00pm

Sunday, March 3
Arizona vs Indiana – 12:00pm
Dallas Baptist vs Alabama – 4:00pm
*Home team is listed second

View online at friscoclassic.com/schedule

Advanced Tickets For the 2024 Frisco Classic are available now at friscoclassic.com/tickets.  Follow the Frisco Classic on Twitter, Instagram and Facebook at @FriscoClassic to stay up to date with news and ticket information.