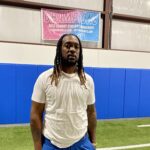 Episode 165: Our guest is Cedric Thornton, former NFL defensive tackle who played for the Eagles, Cowboys and Bills. We sit down in Cedric's gym to talk about what shaped his NFL career and the lasting impacts he strives to make on teammates and the next generation.
Enjoy this chat with Cedric Thornton.
Resources:
Preparing Tomorrow's Athletes | https://preparingtomorrowsathletes.com
Cedric on Twitter | @mricanduedat
Give me a comment, a wave, a message. You can find me on Instagram @hustle_and_pro or email me at [email protected].
Support our Episode Sponsors: