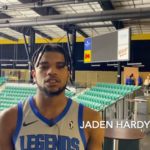 Episode 164: Come with me to Media Day of the Dallas Mavericks' G-League affiliate team, the Texas Legends. We walk you thru the concourse of Comerica Center and quick interviews with the Legends 2022-23 roster.
You'll meet James Banks, Yudai Baba, Olin Carter, Tyler Dorsey, Mo Gueye, Amauri Hardy, Jaden Hardy, Tyler Hall, Tra-Deon Hollins, Taze Moore, Grant Riller and McKinley Wright.
Enjoy episode 164 of Hustle and Pro.
Resources:
Texas Legends | https://texas.gleague.nba.com
NBA G-League – https://gleague.nba.com
Give me a comment, a wave, a message. You can find me on Instagram @hustle_and_pro or email me at [email protected].
WATCH THIS EPISODE – Please SUBSCRIBE to Hustle and Pro on YouTube
Support our Episode Sponsor: