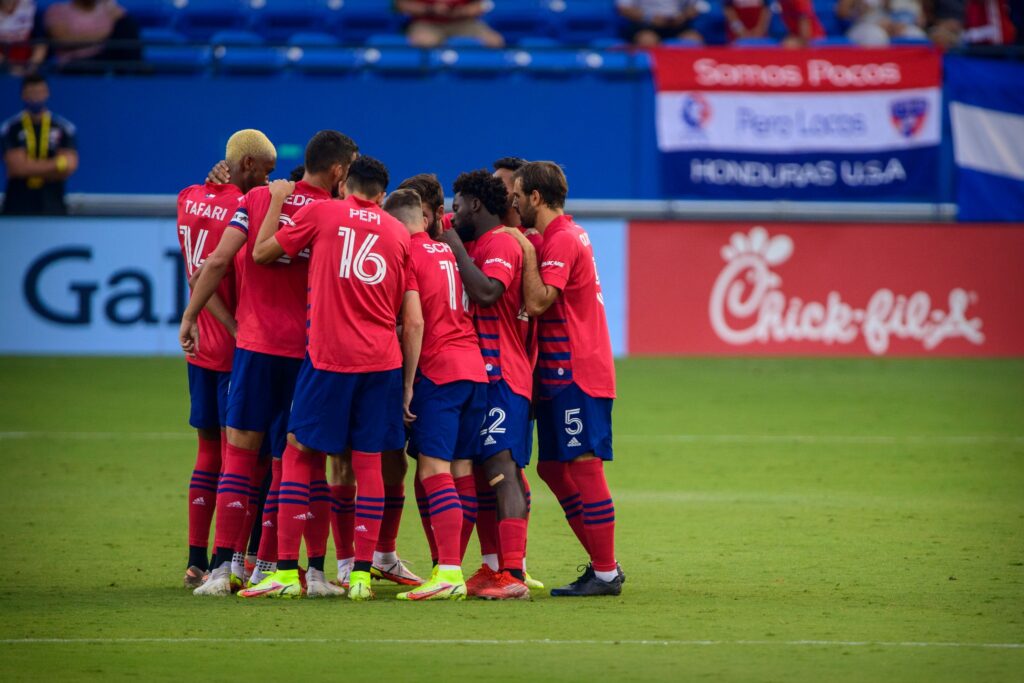 Major League Soccer announced the list of players available for selection in the 2021 Expansion Draft, where expansion side Charlotte FC will have the opportunity of selecting up to five players from the eligible list. They'll make their selections on Tuesday, Dec. 14 at 6PM CT. The list includes 258 available players. Here's how the FC Dallas roster sits ahead of that MLS Expansion Draft.
FC Dallas Expansion Draft List

Protected Players (12): Matt Hedges, Nicky Hernandez, Ryan Hollingshead, Franco Jara, José Martínez, Jimmy Maurer, Johnny Nelson, Jáder Obrian, Facundo Quignon, Szabolcs Schön, Nkosi Tafari and Ema Twumasi.
Automatically Protected Players (12): Edwin Cerrillo, Justin Che, Kalil ElMedkhar, Jesús Ferreira, Eddie Munjoma, Ricardo Pepi, Paxton Pomykal, Beni Redžić, Thomas Roberts, Dante Sealy, Brandon Servania and Collin Smith.

Available for selection (7): Bryan Acosta, Bressan, Caiser Gomes, Phelipe Megiolaro, Andrés Ricaurte, Freddy Vargas and Kyle Zobeck.

How do these lists shake out and what makes each player eligible for each list?
Each current MLS club had the opportunity to protect 12 players from their 2021 roster. Generation adidas players (who did not graduate at the end of the 2021 season) and Homegrown Players (ages 25 and under) on a club's off-budget roster are automatically protected and do not count against a team's 12 protected roster spots.

Designated Players are not automatically protected. If a Designated Player has a no-trade clause in his contract, then the club must protect him in the Expansion Draft.
LA Galaxy, Nashville SC, New York Red Bulls, Orlando City SC and San Jose Earthquakes are exempt from the 2021 Expansion Draft because they had players selected by Austin FC during the 2020 MLS Expansion Draft.

Charlotte FC will receive an additional sum of General Allocation Money as compensation for five exempt teams, protected Homegrown players, and the twelve protected players per team in the MLS Expansion Draft. For a club that has a player claimed from their unprotected roster, that team will receive $50,000 in General Allocation Money for the selection.

After the Expansion Draft, the off-season roster building events continue. The End-of-Year Waivers and the opening of Free Agency start on Dec. 15, followed by Stage 1 of the Re-Entry Draft on Dec. 17, and Stage 2 on Dec. 23.
Here's how End-of-Year Waivers Work
On Wednesday, Dec. 15 (12 PM CT), the End-of-Year Waivers process gives the clubs that finished at the bottom of the 2021 standings the first opportunities to select from out-of-contract, typically young players who have not met the minimum number of service years for Free Agency or the Re-Entry Process. Beginning in reverse order, and taking into account postseason performance, FC Cincinnati will select first. The 2021 MLS Cup champions New York City FC will have the 27th pick, and expansion club Charlotte FC will have the 28th selection to end each round. See the End-of-Year Waivers List.
Free Agency
Immediately following the End-of-Year Waivers process, Free Agency also will open on Dec. 15 for players who are at least age 24 with at least five MLS service years and either option-declined or out-of-contract. Free Agents can negotiate a new contract with any MLS club, including their previous team, subject to certain restrictions. There is no limit on the number of Free Agents a team may sign each year. See the Free Agency List.
Re-Entry
The Re-Entry Draft, Stage 1 begins on Friday, Dec. 17 at 12PM CT. Similar to the End-of-Year Waivers process, the Re-Entry Draft is conducted in the reverse order of the final 2021 season standings, keeping in mind postseason performance and any trades impacting selection order. During the Re-Entry Draft, MLS clubs can select from option-declined players who are at least 22 years old with a minimum of one service year and who are not eligible for free agency.
The final postseason roster mechanism will be Stage 2 of the Re-Entry Draft, which will be conducted on Thursday, Dec. 23. The list of players eligible for Re-Entry, Stage 2 will be announced on Dec. 23 at 10AM CT.
Simple as that. ⚽️