We've been boasting about all the players on the US Men's National Soccer team who've come through FC Dallas or are currently playing for FC Dallas. When you have names like Walker Zimmerman, Kellyn Acosta, Reggie Cannon, Jesus Ferreira, Ricardo Pepi, Weston McKennie, and Paxton Pomykol on the pitch for the USMNT, fans of FC Dallas perk up and pay attention. The layers underneath the first team are just as stacked with local talent.
FC Dallas Academy players Nolan Norris, Nighte Pickering and Anthony Ramírez have been called up to the U.S. U-19 Men's Youth National Team by new head coach Marko Mitrovic for his first training camp in Carson, Calif. from April 22-May 1 at Dignity Health Sports Park.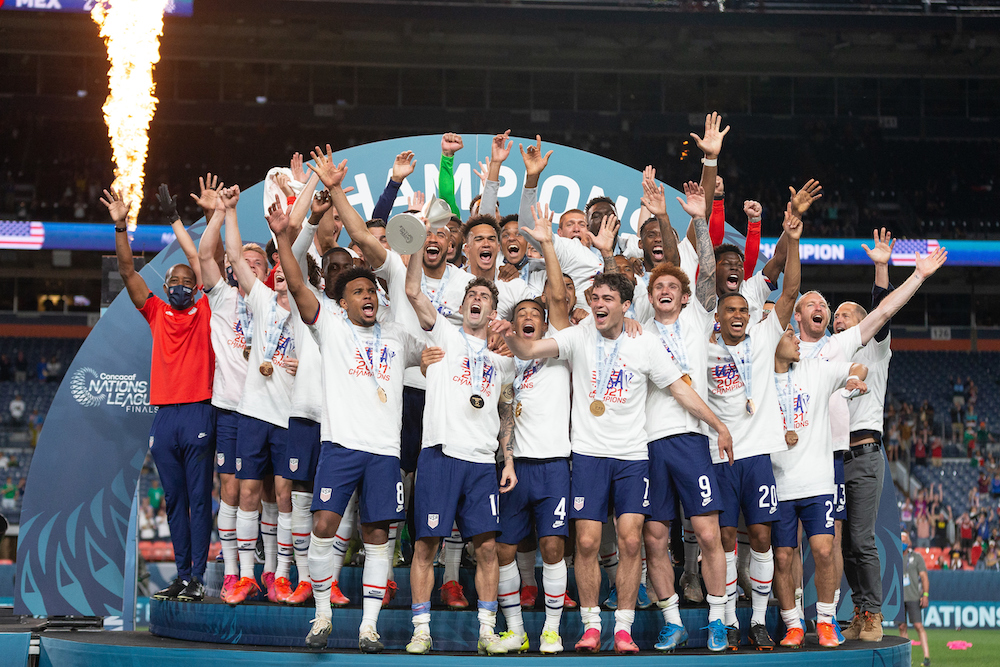 Norris, 17, has appeared in 15 MLS NEXT matches, including 14 starts, in FC Dallas' U-17s backline this season. He made his professional debut with North Texas SC on Sunday, April 17 against Earthquakes II on the road. Norris joined the FC Dallas Academy in 2017 and was part of the FC Dallas U-13 team that won the 2018 U-13 Dallas Cup with Pickering and Ramírez.
Pickering, 17, has scored seven goals in 20 MLS NEXT appearances (12 starts) this season. The Alabama-native also joined the FC Dallas Academy in 2017. Pickering, Norris and Ramírez were also part of the FC Dallas U-15 team that won the 2019 FC Bayern adidas Campus Cup in Munich, Germany.
Ramírez, 16, has six goals in 15 MLS NEXT appearances this season. The Dallas, TX native earns his first call-up to the U.S. U-19 team and has previously represented the United States at the U-15 level. He was most recently called up to Mexico's U-18 National Team for the Antalya Cup in Turkey. It was his second Mexico U-18 camp after joining them for friendlies in September 2021.
All three players recently appeared in the 2022 Generations adidas Cup for FC Dallas U-17 team.
Players born on or after Jan. 1, 2004 are age-eligible for the 2022-23 U-19 MYNT cycle. Eight players called into camp were born in 2004 and 26 born in 2005. All 34 players at this training camp are age-eligible for this summer's 2022 Concacaf U-20 Championship in Honduras, which serves as qualification for the 2023 FIFA U-20 World Cup and the 2024 Olympics. The players born in 2005 are also age-eligible for the 2024-25 U-20 World Cup cycle.
U-19 MYNT ROSTER BY POSITION – APRIL TRAINING CAMP
GOALKEEPERS (4): Gavin Beavers (Real Salt Lake: Henderon, Nev.), Jeffrey Dewsnup (Real Salt Lake; Herriman, Utah), Fred Emmings (Minnesota United, Saint Paul, Minn.), Emmanuel Ochoa (San Jose Earthquakes; Salinas, Calif.)
DEFENDERS (12): Tyler Bindon (LAFC; Los Angeles, Calif.), Noah Cobb (Atlanta United FC; Chattanooga, Tenn.), Carlos Diaz (LAFC; Baldwin Park, Calif.), Alexander Freeman (Orlando City SC; Plantation, Fla.), Samuel Jones (Wake Forest; Portsmouth, Va.), Nolan Norris (FC Dallas; Dallas, Texas), Curtis Ofori (New York Red Bulls; Hopewell Junction, N.Y.), Mateo Pinilla (Houston Dynamo; Houston, Texas), Justin Reynolds (Chicago Fire FC; Chicago, Ill.) , Nathan Rodrigues (San Jose Earthquakes; Campbell, Calif.), Diego Rossi (New York City FC; New York, N.Y.), Josh Wynder (Louisville City; Louisville, Ky.)
MIDFIELDERS (10): Gonzalo Agustoni-Chagas (Orlando City SC; Kissimmee, Fla.), Reed Baker-Whiting (Seattle Sounders; Seattle, Wash.), Caleb Borneo (Columbus Crew; Morgantown, W.V.), Osvaldo Cisneros-Reyes (Sporting KC; Omaha, Neb.), Benjamin Cremaschi (Inter Miami CF; Miami, Fla.), Robert Deziel Jr. (Bayern Munich/GER; Palm Beach, Fla.), Ethan Kohler (Orlando City SC; Orlando, Fla.), Bryan Moyado (LAFC; La Puente, Calif.), Sergio Oregel Jr. (Chicago Fire FC; Chicago, Ill.), Brooklyn Raines (Houston Dynamo; Maricopa, Ariz.)
FORWARDS (8): Bryan Arellano (Austin FC; San Antonio, Texas), Favian Loyola (Orlando City SC; Orlando, Fla.), Rodrigo Neri (Atlético Madrid/ESP; Madrid, Spain), Korede Osundina (Orange County SC; Redmond, Wash.), Nighte Pickering (FC Dallas; Frisco, Texas), Anthony Ramirez (FC Dallas: Little Elm, Texas), Alixson Soukup (LAFC; Canoga Park, Calif.), Ethan Subachan (Orlando City SC; Orlando, Fla.)